Dec. 1 is the day set by Reliance Jio for the new prepaid plan tariffs to take effect.
Airtel and Vodafone Idea have also raised costs on several of their prepaid plans. On its unlimited prepaid plans, the company has implemented a pricing increase of up to Rs. 480. It also claims that it has raised pricing in order to create a more viable telecom business. With a market share of 36.43 percent, Jio has the most wireless customers in India, according to the Telecom Regulatory Authority of India. According to reports, there would be 424.837 million Jio cellular users in India by September 2021.
Many Reliance Jio unlimited plans, including a JioPhone plan, have had their pricing increased, but the benefits haven't. An additional Rs. 480 in price has been added to the most expensive Rs. 2,399 model. No of how long you keep your phone, you'll still get 365 days' worth of advantages. According to Reliance Jio's statement, the new plans would be implemented on December 1.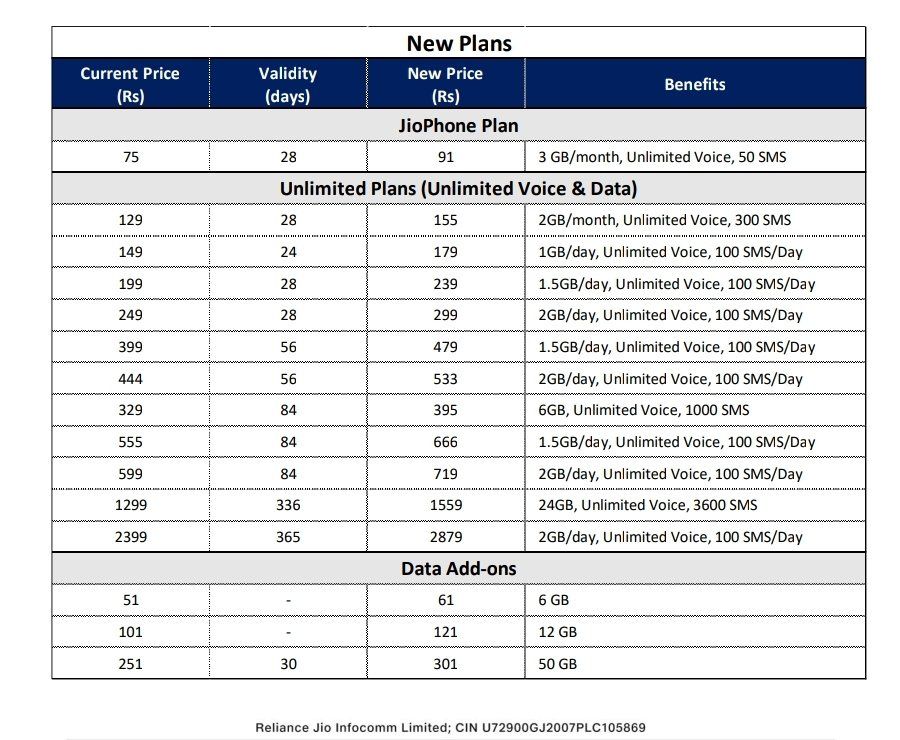 After the end of November, JioPhone plans will cost 91 rupees instead of 75 rupees. Unlimited voice and 50 SMS messages for 28 days are still included in the package. There will also be an increase in the prices for data add-on plans of Rs. 51, Rs. 101, and Rps 251. Up to 50GB of additional data may be obtained with these data upgrade options.
[ Also Read: Approval of Reliance-Future Deal Revocation Requested by Amazon to Antitrust Body ]
Voice calling is included in all Jio unlimited plans, regardless of the package. In addition to 2GB of data, 300 SMS messages, and 28 days of validity, the Rs. 129 prepaid plan will be priced at Rs.155. The Rs. 149 prepaid plan will cost Rs. 179 and include 1 GB of data per day, unlimited calls, and 100 SMS messages per day for 24 days of validity. Rs. 239 for the Rs. 199 box comes with a 28-day validity period. Unlimited phone calls and 100 SMS messages per day are included in the 5GB of daily data value.
Several additional Jio unlimited plans, including those with 56, 84, and 336 days of validity, would also be subject to price increases.