Smartwatches are one of the most fashionable accessories. Smartwatches do more than simply indicate the time; they enable you to remain more linked to your phone and other applications, allowing you to receive phone calls, texts, and alerts, among other things.
We've put up a list for individuals who don't want to lose out on the smartwatch experience while staying within their budget. Although high-end smartwatches with quality designs and the newest models may be costly, more affordable smartwatches are not far behind in terms of style and functions. There are a lot of functions that a smartwatch may provide for a price of less than 5,000. Here are some of the greatest smartwatch alternatives for individuals wishing to spend less than INR 5000 on a smartwatch.
Xiaomi Redmi Watch
The Redmi Watch is an affordable smartwatch alternative. This watch comes with re-attachable bands that may be taken off and put back on as required. The watch may be used with Android or iOS smartphones, and all that is required is the download of the Xiaomi Wear Lite or Xiaomi Wear apps.
The Redmi Watch is light and pleasant to wear, with a square-shaped 1.4 LCD display. It comes with a built-in GPS, a long battery life of up to 9 days, and Bluetooth 5.1 connection. The lack of a SpO2 or blood-oxygen sensor is one of the smartwatch's biggest flaws, although it does come with 11 sports modes and a heart rate monitor.
The Redmi smartwatch would set you back about INR 3,999.
Realme Watch S
Another nice choice for affordable smartwatches is the Real Me Watch S. It has a sleek and attractive design with a circular-shaped 1.3-inch LCD touchscreen display. It comes with an Aluminum Alloy casing, Corning Glass 3, and adjustable straps for more protection.
The watch's most striking feature is its battery life, which may last up to 14 or 15 days on a single charge. Bluetooth 5.0 is used for connection. In addition to 16 sports modes, the wristwatch has a blood oxygen meter and a continuous heart rate monitor.
The IP68 certification of the Realme Watch S indicates that it is water-resistant.
This wristwatch costs INR 4,999, however prices vary depending on where you buy it.
Honor Watch ES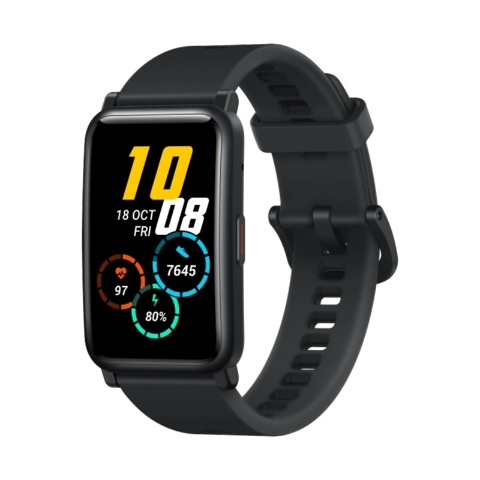 The Honor Watch ES is a stylish wristwatch with a variety of health and fitness functions. The rectangular 1.64-inch AMOLED touch screen display on this timepiece includes automatic brightness adjustment.
To link the wristwatch to their phones, users must first download the HUAWEI health app. The Honor Watch ES boasts 95 training options and 12 animated workout courses, as well as 44 typical body movement animations and automated workout identification, which is rather amazing considering its price.
This device's battery life is likewise impressive, lasting up to 10 days on a single charge. It includes Bluetooth 5.0 for communication, and it contains health monitoring such as a heart rate monitor, blood oxygen meter, TruSleep Monitor, and stress monitor.
The Honor Watch ES smartwatch is priced at INR 4,999.
ColorFit Pro 3 Noise
The Noise ColorFit Pro 3 has a lot of great features at an affordable price. This smartwatch has interchangeable bands and comes in a variety of colorful colors. The smartwatch has automatic sport identification, which monitors the user's actions without requiring the user to activate any sport mode.
A 1.55-inch touchscreen HD display is included on the wristwatch. The smartwatch has a long battery life of up to 10 days and can connect through Bluetooth. To learn everything about their health, customers must download the NoiseFit app. Aside from these features, the Noise ColorFit Pro 3 has 14 sports modes, a Stress monitor, music control, female healthcare support, Find phone assistance, Blood oxygen level, weather, sleep monitor, breathing guidance support, and more.
The pricing of this wristwatch is INR 4,499. The pricing may differ from one retailer to the next.