Redmi users the other day woke to a surprise MIUI 11 update, which Xiamoi has started rolling out for Redmi Note 4 and Redmi 4 and older devices. The update packs some cool and unprecedented features that have raised the bar for the user interface on Android phones.
Sensing your excitement, herein we dive into all the exciting upcoming features with the MIUI 11 update.
1. Always On Display
Xiaomi has introduced Always-on Display on supported devices including Redmi K20 series, Mi 9, etc. last year and is now taking a step further. Xiamoi will now push the Always-on-display feature on most of its devices and it is highly customizable.
You can choose from multiple animated clocks, colourful backgrounds and can also customize your own moving quote.
Going a step further, Xiamoi has introduced a new way to get notification alerts. Once turned on, the corners of your display will glow up whenerver you receive a notification. The feature supports multiple colours for different apps.
Also Read: Google Teaches An AI To Identify Smells
2. Redesigned And Hitting The Bull's Eye
The user interface has always been one thing that stops me from purchasing a Xiamoi device. However, with the MIUI update, Xiamoi has bestowed us with a clutter-free, gesture-full user interface that lures you enough.
Xiamoi has parted ways from repeated design and is focusing on making the UI smooth. MIUI comes with additional features like squircle icons for its native app, an all-new font, cleaner setting menu and more which you can easily identify at first glance.
3. Forced Dark Mode
With the Forced Dark Mode feature, you can now force any app on your device to adapt dark mode. The feature is available under the "Display settings page" as a global Dark Mode.
4. Nature Alarm And Revamped Notification Sounds
No more scouting for the alarm tones that would help you start your day right because MIUI 11 does the job for you. Xiamoi with the update brings seven Nature Alarm tones so you wake up to a distinct nature-friendly alarm sound throughout the week.
Moreover, Xiamoi has embedded new notification sounds into its device that draws inspiration from water and birds. Xiamoi claims that notifications sounds will never sound the same throughout the day.
5. Wireless Printing
Xiamoi has enabled a feature wherein you will no longer need to install an additional app to print a document. The feature supports more than 2000 printers and is highly customizable.
Also Read: Facebook Rolls Out Dark Mode In Beta For Its Platform's Web Interface
6. New Calculator
Now you don't have to go back and forth between apps to perform a calculation as Xiaomi's minimises the calculator for you so that you can drag it anywhere on the screen.
Moreover, the features allow you to calculate age, EMI, GST, discounts, spill bills, calculate taxes, and much more. We mull if it's even a calculator. Do we need to find a distinct term to describe it?
7. Track Daily Activites, Even Menstruation Cycle
MIUI 11 brings a built-in step counter to help you keep track of how much you have been walking, climbing and running. For the female users, Xiamoi has introduced a menstruation cycle tracker within the Calendar app.
8. Quick Replies
Quick replies are supported by multiple apps now. You can send messages while you are watching videos, reading, or swiping through your newsfeed without needing to quit the app. Keep the conversation going!
9. Mi Share
Mi Share is one of the most useful features that come with the update. Now with MIUI 11, you can share files across smartphones, thus saving you from the misery of installing a third-party app to get the same job done. The best part about revamped Mi Share is that you don't need to pair devices at all.
Also Read: Why Burst Crackers This Diwali When You Can Eat Them?
10. Momiji In-Camera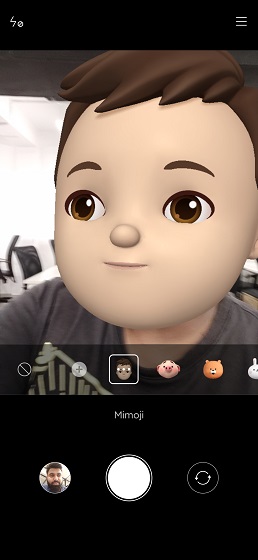 Xiamoi camera will now entail a Mimioji feature that can be accessed by switching to the Mimoji tab at the bottom and start creating your animated emoji self. Mimoji now supports head movements, mouth detection, and some degree of facial expression too.