The fitness video of PM Modi is going viral on social media platforms. And here is what our notorious minds made out from it.
His regime is sure to drive awareness towards fitness among the people, but is that all?
Hell naw!!!
We couldn't help but think of situations and create gifs that would perfectly fit into these scenarios.
Here's a collection of 9 memes that you can totally relate to –
1> *Friend: Bhai 'bandi' patwa de yar!
* Me:
2> When you want to rip your boss apart but you gotta pay your bills
3> When you open a dank-ass meme page and see.. Hello Phraandzz, Chai peelo!!!!
4> When you thought 'getting stoned' means this
5> When you bring your arsenal to beat the shit out of that 'Chai-hater'
6> When you break your Mom's favorite crockery..
7> When that ugly-ass girl waves at you from a distance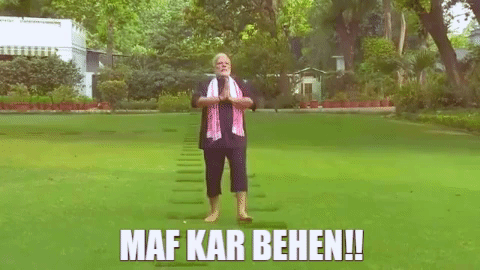 8> Sakht launda taking saat pherey
9> When you have been forever alone for a little too long