Wedding season means it is a shopping season not just for women but also for men. You have to be prepared with multiple outfits as you know that Indians have too many events for one wedding. And you do not want to be caught in the last-minute hustle to find the perfect outfit. Many people have that one outfit like a black sherwani or kurta pyjama set that they keep repeating endlessly. Consider this article as your shopping guide or styling tour for various wedding outfits for men.
Sherwani
When we say sherwani, people consider it to be just the groom's outside. Maybe the royal look and touch of a sherwani give them a perspective that only the groom can wear something so lavish. But that is definitely not the case because you have many different styles when it comes to buying a sherwani. You also can experiment with colours that a groom particularly will not choose for you to stand out from the crowd. So, for instance, a black sherwani will be the star of the night for you to dress up. 
Suits
If a black sherwani is not your style, then you can try wearing a black suit instead. Suits are quintessential outfits for a wedding. For decades they've been the gentlemen's style for any occasion, whether formal or a happy one. They elevate your look to make anyone feel that you are a dignitary. You can wear the suit for formal wedding functions like a cocktail party, reception or after-party. 
Kurta Pyjama
Many people argue that a traditional black sherwani is not much different from the kurta pajamas. However, it is the small details and the look of the outfit that divides the two of them. Kurta pyjama set is one of the most common traditional wear for men, which can be worn in other setups apart from a wedding. But black sherwani can be styled just for wedding functions. Therefore, you can style a kurta pyjama set for various small wedding functions. 
Indo-Western Look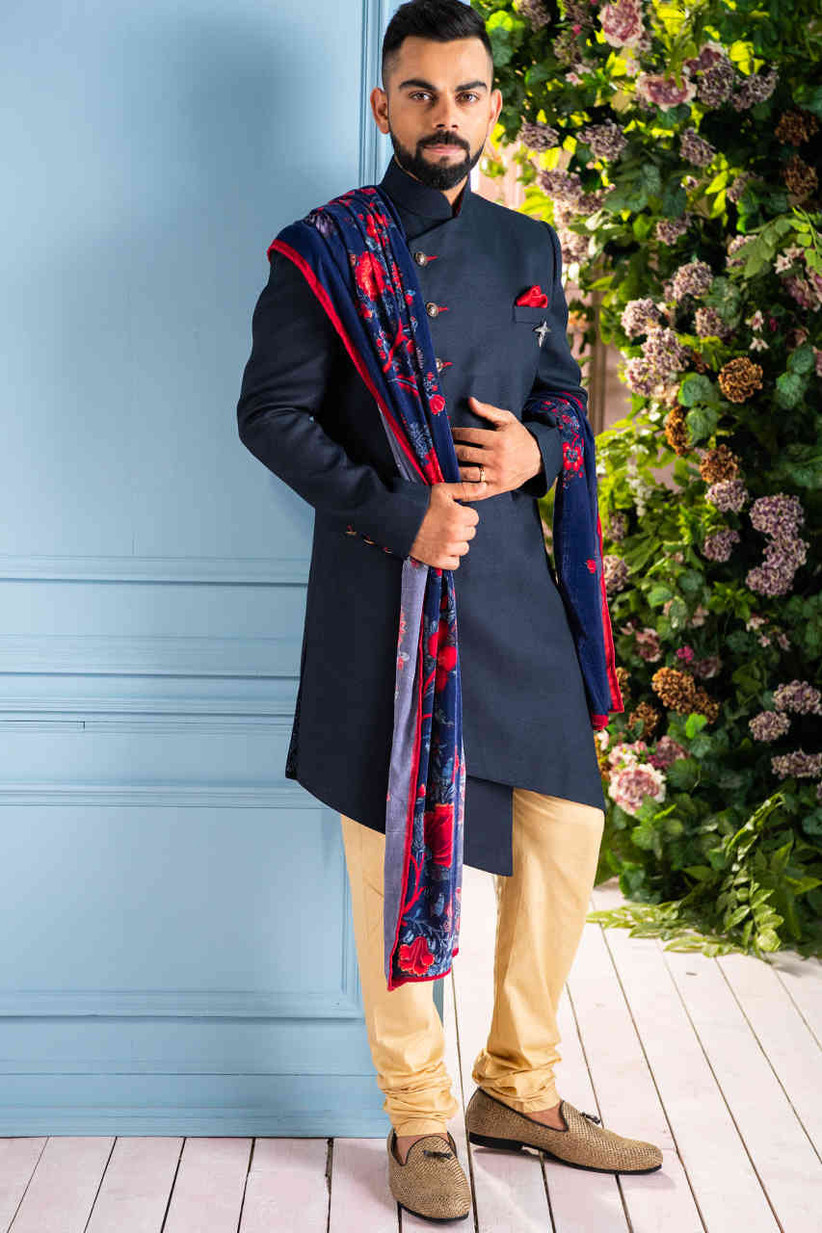 An Indo-Western look is simply a mixture of two different regional styles. On the one hand, you get to pair an Indian kurta or jacket with a standard investing style. On the other hand, one of the most classic Indo-Western looks is a high-low kurta with chinos. This is more of a contemporary style with an ethnic touch that looks great for any pre-wedding celebration. The major styling for an Indo-Western look is to experiment with different types of footwear as you have the freedom to use the western formal footwear as well as the traditional Indian ones. 
Pathani
As the name suggests pathani suit is one of the most underrated men's styles. The look and feel of Pathani suits are very much similar to that of a black sherwani. These pathani suits are mainly in solid colour fabrics without any print or embroidery. But nowadays, designers are experimenting with adding minimal design elements to them. You can wear them for casual functions as they have a sense of comfort but also look very appealing.