Shopping for footwear is a seasonal affair. Because you not only have to focus on the looks and feel of the footwear but also focus on the durability of them, especially the rainy shoes you buy. When you shop as per the season, you get to choose from a specific type of footwear and a defined colour palette. Here are some fantastic tips on how to choose and shop rainy shoes online.
Know What Works For You
Our mind is all over the place when we step out to shop. As a shopper, you are given so many options to choose from that it just gets confusing. But the key focus should be finding the right type that works for you. Being the shopper, you have to think of three 'P's' that is 'Practical', 'Price' & 'Pretty'. 

Practical– Here, focus on the feel of the product and pre-judge the comfort it will give you when you step out wearing it. Especially when buying rainy shoes, one must look for the durability and functionality of the footwear as per the season.
Price– You surely don't want to spend too much on a pair of footwear when you can splurge on multiple pairs
Pretty– The look of the footwear matters, as it will draw eyeballs to your whole outfit.
Experiment With The Type of Shoes
Just because the weather is going to be gloomy doesn't mean your style says it too. In fact, in such weather, you must shine bright. And by this, we don't mean loud colours and glitter work on the Rainy shoes but choosing statement pieces and opting for different types of rainy footwear all the time. These days you get so much variety in the right footwear as per the weather, right from rubber loafers, sandals, boots, and floaters to basic slippers. You can easily create different looks for your everyday events with these types of rainy shoes.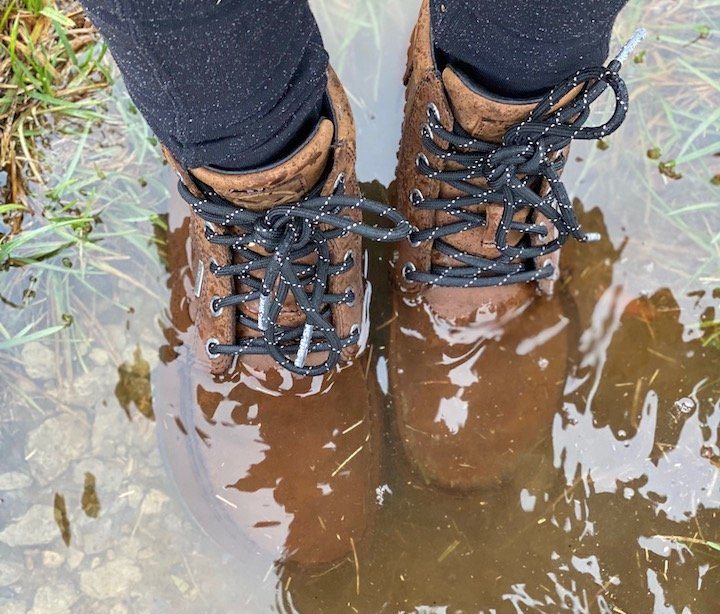 How to Style A Look in Wet Weather
The essentials to nail this look are basic tops and t-shirts that you can layer up as the overall temperatures drop, along with wet weather gear like raincoats or umbrellas. Wearing printed jumpers with a long raincoat that resembles the look of a trench coat is one of the most stylish outfits one can plan with some fancy waterproof sandals. Next, it is simple cotton trousers with a button-down shirt layered with a rainy jacket and some floaters for men. There are so many types of raincoats that are less known or underrated.
Shop Mindfully
I have read before that Rainy footwear must follow a short checklist of 'Easy to wear, Easy to Remove & Easy to dry'. These are the essential pointers that one must keep in mind as they help you make the right decision keeping your comfort and practicality in mind. Many times people also get confused between waterproof and water-resistant footwear options as one of them is exceptionally durable in monsoon, and the other isn't. 

With these tips, you cannot go wrong with the upcoming monsoon shopping to get yourself the most excellent rainy shoes and nail any monsoon look.