Whenever it comes to a beautiful body, I bet the first thought that crosses your mind is a flat abs.
There is no doubt that lower fat is damn stubborn and doesn't go away easily.
You try whatever you can get your hands on to get rid of it and fail most of the time.
But have you ever taken the aid of Yoga? If you haven't yet, you're literally missing out on a health treasure box.
You don't need to join a gym, or follow a strict diet, or swim or hike. Just follow these Yoga aasanas and watch your belly fat melt away gradually:
1. Pavanamuktasana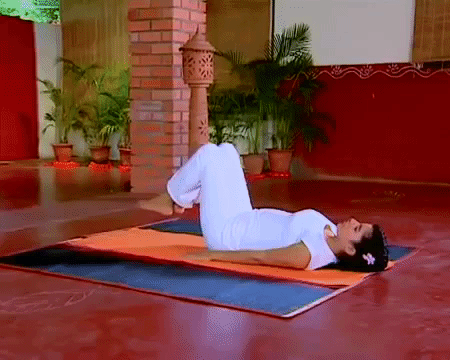 The trick to this pose is, if you hold the position for one minute and over, it will trigger instant burning of fat in your lower abdomen.
Start by lying flat on the floor with face upwards.
Make sure your heels are touching each other.
Now bend your knees and inhale. Exhale slowly and pull your knees closer to your chest as you apply pressure on your tummy.
Hold this position by holding your hands firmly beneath thighs.
Breath in, and as you breathe out, lift your head so that you can touch your knees with your chin.
Repeat this 5-10 times giving 15 seconds of interval.
Return to lying flat on the floor with hands on the side at the end of the exercise and relax.
2. Paschimottanasana
This yoga pose will not only build your lower abs but also tone your thighs and hips.
You can start by sitting on the floor, folding your legs and making sure that your spine is erect.
Now stretch your legs and point your toes towards the ceiling.
Take a deep breath and stretch your hands above your head going back without folding elbows.
Exhale and bend forward while touching your toes.
Maintain this position by holding your toes and pulling them backward. Breathe in and hold this position for as long as you can.
Now exhale and get back to the Padmasana pose.
Begin this aasana by doing it 10-15 times a day and increase until 25 times for effective results.
3. Padahastasana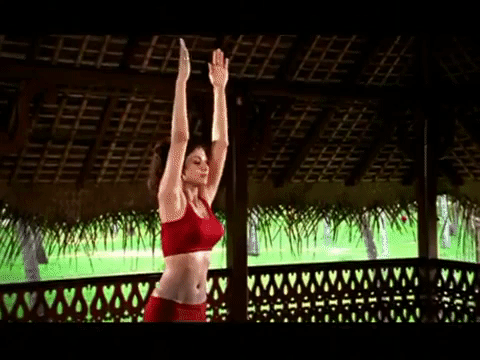 This pose compresses your tummy and burns the layer of fat stored under your belly.
Stand upright and keep your hands on sides of your body.
Inhale and lift your hands up.
Now exhale and bend forward halfway down the floor.
Inhale again and this time bend down completely while touching your toes. And work your way till you start touching the ground.
While you bend to touch your toes, hold your breath and maintain the position for at least 60 sec.
Repeat this complete asana 10-15 times.
Maintain a gap of 10 sec between each set.
Want To Check Out Somethin' Funny? These Humorous Memes Made From Narendra Modi's Fitness Routine Will Be Your Laughter Therapy For Today.
4. Naukasana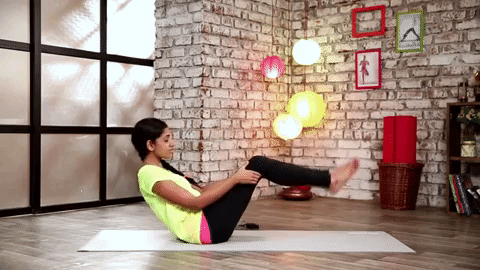 This is a very effective pose that helps in contracting the abdominal muscles and also tones your abs.
Lie down flat on the floor with your hands resting on side and heels touching each other.
Take a deep breath and as you exhale lift your legs, hands, and chest up in a curved position.
Keep your arms parallel to your legs and your toes with your fingers. Hold the position for 30-45 seconds and feel the pressure on your tummy region.
Inhale and exhale normally and then relax your body.
Get back to the first position.
Repeat this yoga pose for at least 5-10 times and gradually increase it to 20-30 times.
Keep a gap of 15 seconds between the poses.
(Menstruating females should not practice this pose)
5. Ushtrasana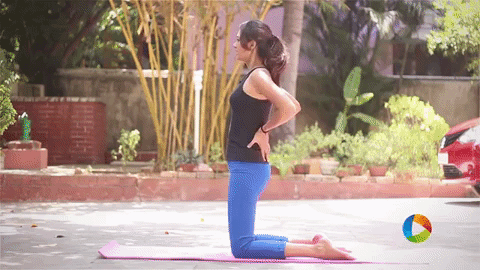 With this yoga pose, you will beautifully tone up your adnominal muscles and also shape up your back.
Kneel down and sit on your feet in the Vajrasana pose.
Now inhale and lift your upper body by putting your entire body weight on your knees.
Slowly breathe out and stretch backward.
Tilt your head back and hold your ankles until you feel your abdominal muscles stretch. Hold it for 20-30 seconds and keep breathing normally.
Slowly relax while you exhale and return to Vajrasana.
Do this asana at least 5-10 times and increase it gradually.
Keep an interval of 15 seconds while repeating.
(Don't perform this if you have any back injury.)
6. Uttanpadasana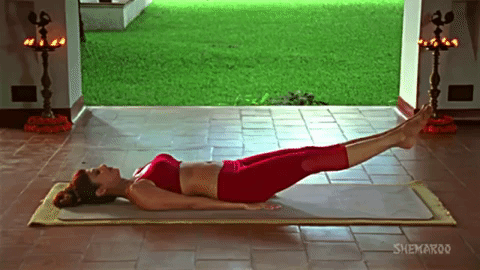 This is a mind-blowing yoga pose which will not only give you a flat tummy but also help you get rid of the fat from your hips and thighs.
Start off by lying down on the floor with hands resting on the sides.
Take a deep breath and while exhaling tilt your back.
Bring your head backward and make sure it is touching the floor.
Now inhale deeply and raise both your legs straight up.
You will feel immense pressure on your abdomen. Hold this for 15-20 seconds and breathe normally.
Exhale slowly and get back to the initial position.
Repeat this after a gap of 15 seconds and relax after every repetition.
7. Dhanurasana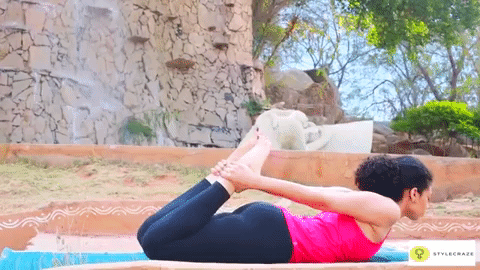 This pose does wonders in toning your lower abdomen region. It is also a great pose to stretch your back, thighs, arms and get them back in shape.
Start by lying down on your tummy and palms resting on the floor.
Breath-in normally and exhale deeply, bend your knee upwards.
Meanwhile, tilt your head backward and hold your ankles with your hands. Let you tummy support your entire body weight.
Breathe in and out while holding this position for at least 15 to 30 seconds.
Now, exhale and relax your body while slowly stretching it flat on the floor.
Repeat this pose 10 times with a 15 seconds time-interval.
These 7 aasanas will tone up your lower abdomen, reduce your lower belly fat and give you a slim waist. Moreover, you don't require any special place to perform these yoga poses.
Any quiet and calm place will do. Just keep in mind that you will get results only when you follow this routine rigorously.
So, go get that body you always dream of and feel young, beautiful and alive!